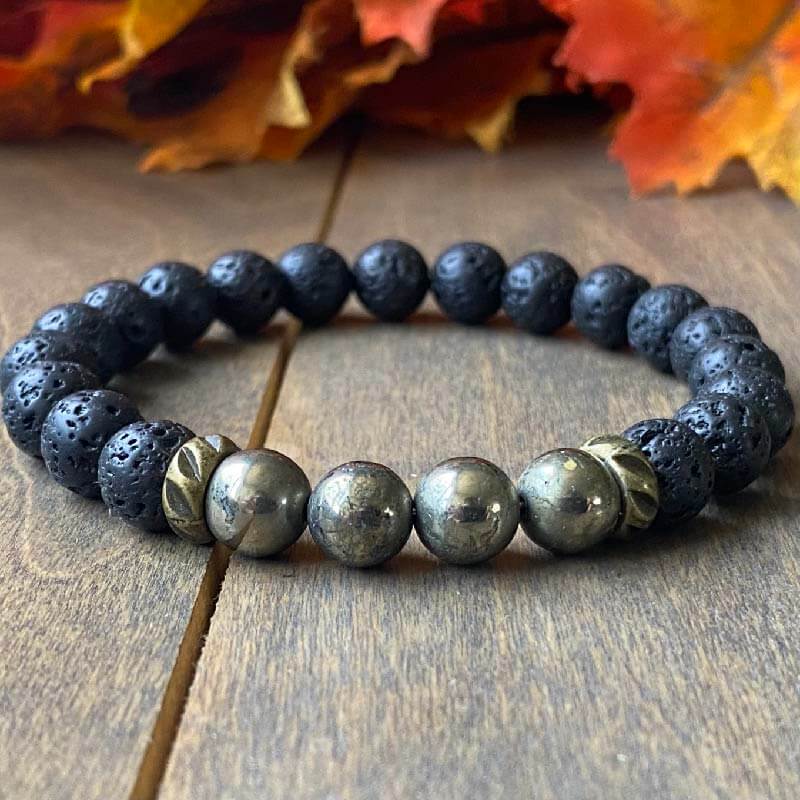 Protection & Divination | Unlock Your Chakra
Regular price
$60.00
Sale price
$45.00
/
Beaded Bracelets | Protection & Divination
Unlock Your Chakra Collection 
Protection - Meditation - Divination
Pyrite, 
a powerful protection gemstone which shields and protects against all forms of negative vibrations and energy, working on the physical and emotional levels. It stimulates the intellect and enhances memory, helping to recall relevant information when needed. Pyrite assists one in seeing behind facades, promoting an understanding of that which lies beneath words and actions. The ancient Incas used Pyrite for meditation and divination.
Pyrite inspires the universal energies to activate the nourishing energies of the body. It encourages the ideal of health, intellect, and emotional well-being. It allows one to recognize the purity of the universe. Pyrite Stone is also excellent for increasing the power of your third solar chakra, When the pyrite touches your skin, it immediately gives you an increase in vitality and a zest for life. It helps you to finish tasks that may be looming over your head by increasing your willpower and motivations. Pyrite helps you to feel balanced, energized and full of positive energy.

These gorgeous beaded bracelets are created with 8mm natural Pyrite & Lava gemstone beads. Designed and hand made with extreme love and care, it is carefully packaged in a beautiful handcrafted bracelet gift box with a bracelet description card.
These beaded bracelets will add a touch of casual elegance to your wardrobe for any season of the year.
Great gift for family, friends & loved-ones
• High-Quality beaded bracelets
• Genuine 8mm Pyrite and lava stone
• Packaged with bracelet description card
• Stretch bracelet with quality elastic cord
• Made to fit your wrist
• Handmade in Los Angeles, California
• Made with pure positive energy
IMPORTANT
Please measure your wrist before selecting bracelet size.
For best fit please add an extra half inch to wrist size to get the bracelet size
(Wrist size + half inch) = Bracelet size
(size: S, M, L, Xl, XXL)
(For larger size, when placing your order, please add the bracelet size in the note section)
See bracelet size chart tab below 
-IMPORTANT-
Please measure your wrist before selecting bracelet size
Because each bracelet is made-to-order, it is crucial that you measure your wrist before purchasing. If you don't have a fabric measuring tape, a thin piece of paper or a string and a ruler will work just as well.
For best fit please add an extra half(1/2)inch/(1.3cm) to your wrist measurement to get the bracelet size.
To give an example: if your wrist measurement is 6inches/(15.2cm), The bracelet size you select is 6.5inches/(16.5cm) 
If wrist size is 6.5inch please select size7 Medium bracelet at checkout
Bracelet size is selected at checkout.
==BRACELET SIZE CHART==
---------------------------------
S: 6.5inches = 16.50cm (tiny wrist)
M: 7.0inches = 17.80cm (avg women)
L: 7.5inches = 19.00cm (avg men)
XL: 8.0inches =20.30cm (avg L wrist men)
XXL: 8.5inches =21.60cm (XXL men)
---------------------------------
(For larger size, when placing your order, please add the bracelet size in the note section)
Shipping Details

All orders are processed within 1 to 3 business days (excluding weekends and holidays) after receiving your order. You will receive a shipping email notification when your order has been shipped out. 
Domestic Shipping Rates and Estimates
( free shipping for orders over $60). 
| | | |
| --- | --- | --- |
| Shipping option | Estimated delivery time | Price |
| Standard Shipping | 3 to 5 business days | $5 |
| Priority Shipping | 2 to 3 business days | $10 |
How do I check the status of my order?
When your order has been shipped out, you will receive an email notification from us which will include a tracking number you can use to check its status. Please allow 48 hours for the tracking information to become available.
If you haven't received your order within 10 days of receiving your shipping confirmation email, please contact us at namaste@unlockyourchakra.com with your name and order number, and we will look into it for you.
Track my package: Here
Returns & Exchanges Details
We will gladly accept returns and exchanges if there are any issues with your chakra bracelet for any reason.
Please contact us within 45 days of delivery
Ship items back within 45 days of delivery
You can send us an email at namaste@unlockyourchakra.com and mail your bracelet back with a note letting us know if it's for exchange or return for refund.
For exchanges, please add a note with the size to exchange it for. Please ship back to the following address.
Unlock Your Chakra
1022 Irving Ave # 9 
Glendale CA 91201-3229 
United States.